In early December 2019 New South Wales had ninety bushfires burning in the state, thirty nine of which were out of control. I drove from Sydney to Canberra through thick brown smokey air and past blackened patches of burnt out bush to attend my first annual conference of The Australian Cartoonists Association. Driving around the empty Lake George on my approach to Canberra a brown ashy bushfire cloud on the other side of the lake was sucked up by the wind turbines next to it. Climate change was supercharging the bushfires and we should be doing more to combat it. These little pinwheels on the horizon looked like political cartoonists, waving their arms at Canberra, with a good dose of visual irony, pleading those in power to do better.
I have always been passionate about politics and as an artist decided to use my powers for good and began creating political cartoons. Joining the ACA made me feel like a more grown up cartoonist which sounds like an oxymoron but I was excited and anxious to listen to the guest speakers and rub shoulders with Australian artists I really looked up to.
One of the guest speakers was Badiucao, a Chinese-Australian artist/cartoonist /activist. His cartoons and artworks criticise Beijing and the CCP. He created the Hong Kong freedom flag, worked with Ai Weiwei in Berlin where he developed the Tank Man protest held on the anniversary of Tiananmen Square massacre and had recently featured in a documentary China's Artful Dissident where he reveals his identity after being masked and anonymous for years – earning him the title 'Chinese Banksy'.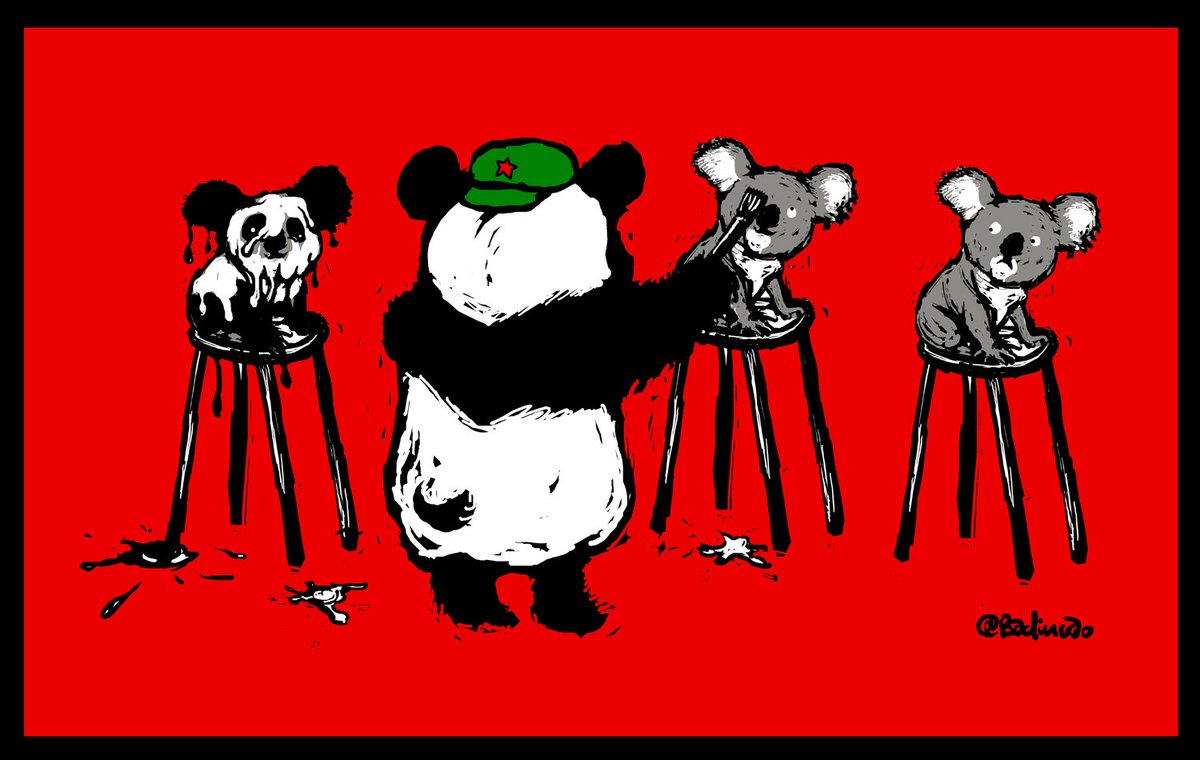 By chance I ended up sitting next to Badiucao at the ACA Stanley Awards dinner, held in the dinning hall of Old Parliament House. We talked about our art practice and what was happening in Hong Kong. Badiucao received an award that night for bravery in cartooning.
I try to enter a portrait in the Archibald Prize every year. I had painted political satirists the last two years with portraits of James Colley (2018) and Mark Humphries (2019) and was keen to continue this trend as I believe political satire is a healthy product of a democracy and they should be recognised alongside the other Australians featured in the Archibald for their vital contribution to culture and political debate. Badiucao agreed to sit for the portrait and we would meet for the sitting in 2020.
The sitting took place in Melbourne while he was setting up his exhibition Made in Hong Kong, Banned in China. After the sitting, Badiucao took me through the exhibition before its opening and we parted ways not knowing that 2020 would close boarders, push back deadlines, and turn into the year that it has.
My final portrait was painted on a woodblock that I carved before applying paint. This referenced Badiucao's art style which itself references the printing technique of communist propaganda poster design. It's a reference to how cartoons can be quickly and broadly distributed, and also a nod to 'wanted' posters. During the portrait sitting we discussed the art of woodcut printing. While in Berlin Badiucao took inspiration from Käthe Kollwitz who used the technique to illustrate peasants and working class struck by poverty and hunger during wartime. My finished portrait also works as a functioning printing block.
Painting a portrait of someone who has had their face hidden for years is an odd challenge, however Badiucao's huge black beard and distinctive glasses has had him emerge from his mask with a very iconic look that feels like a bold expression of identity that I felt had to be captured with a bold graphic style.
Finalists for the Archibald Prize are announced on the 17th of September.